Youth Enrichment
2020 Winter/Spring Youth Dance Program
THURSDAY CLASSES:
These classes will teach the core steps and techniques of each style and then apply those into routines to be performed at the recital at the end of the session.
Dates: January 16—April 9, 2020 (No class March 19)
Tiny Tap & Ballet:
Ages: 3-4 year olds
Time: 5:15-6:00pm
Fee: $95 R/$109 NR
Tap & Ballet:
Ages: 5-6 year olds
Time: 6:15-7:00pm
Fee: $95 R/$109 NR
Jazz and Ballet:
This class is cancelled due to low enrollment.
*Note: Costume fees ($45 [3-6 year old classes] & $50 [7-12 year old classes]) have been incorporated into the program fees above.
Rehearsal April 15 & Recital April 16
@ Webster Elementary School
* Times TBD
2020 Spring & Summer Babysitting Courses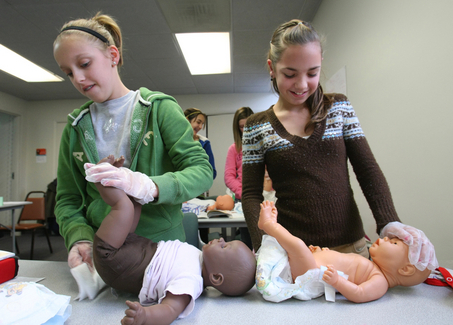 Registration going on Now
Designed for pre-teens ready to stay home alone or for those interested in babysitting—this is a great class for participants ages 10-15. Class includes four hours of CPR instruction (American Heart Association) and four hours of home alone/babysitter safety. Babysitting portion of class is taught by other Paramedics or Nursing professors from FVTC Public Safety Division.
Spring Session: Friday, March 6
Summer Session: Saturday, May 16
Time: 8:00am - 4:00pm
Location: Allouez Village Hall (1900 Libal St.)
Fees: $70/R $87/NR
**Participants should bring a lunch and beverage.**
2019-2020 Easter Seals Program Opportunities

Take a look at the attached document below and see all of the great opportunities offered to children and young adults in the Fox Valley (and slightly beyond) with special health care needs.